As there are many sectors in the Taiwan's Model United Nations Community, the Munual has taken the initiative to look into the different perspective between them at three levels: international/bilingual schools, local school students, and finally college students. The first of the three series would be interviews from students who are attending international or bilingual schools.
Siyun Ee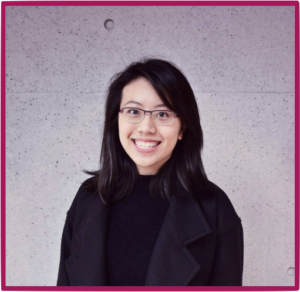 The Munual was able to interview the Secretary General of the 9th annual session of TASMUN, Siyun Ee. Siyun is currently a junior from Taipei American School (TAS), who wishes to major in international relations and assist humanitarian work at a global scale. Here's the excerpt from the interview:
Why did you join Model UN?
I joined Model UN because I wanted to improve my public speaking skills but I was also really curious about the world around me. But I didn't have the courage to speak up about it. So MUN served as a way to think on behalf of each country and I think that is a really important skill because you can envision yourself in other people's shoes. Many things in the real world are about negotiation and compromising. So when you are able to think in multifaceted perspective, it allows you to understand the need of each side.
Can you talk briefly about your MUN experience?
I think one of the most international conferences I've been to is the Qatar Leadership Conference held by the THIMUN Qatar board. It was really interesting because it wasn't like a conventional MUN conference. It was presentation and workshop based, which means that you get to meet with leaders from all around the world in different realms of study. You get to present your own take about leadership and that was a very interesting session.
How do you think your experience differs from some other students enrolled in different institutions?
We are very privileged and honored to be attending TAS as our school provides a lot of resources, programs, opportunities, and even just an array of supportive faculties that allows us to improve by challenging us. The combination of these allowed many of our students to reach out to many facets of MUN and prompted me to go beyond the expectations laid out before me. This is where I felt like my school provided me with a very unique experience unlike any other school.
Also, the fact that we are an English speaking school, like completely English speaking, means that most of the people enrolled in our school are fluent in English. This indicates that the quality of our MUN team and others that we interact with is relatively high. Of course, it is not restrictive to language in terms of the program. Yet as many conferences are in English, it has been very beneficial that we have been practicing speaking English all the time.
Another thing that differentiates our program is the history of MUN program at TAS. We have at least 10 years of history within Model UN so this means that we've been very fortunate to learn about diverse conferences. We've also had the opportunity to learn from these conferences because every conference is unique in its own way. Through the learning process, we were able to host our very own conference, TASMUN, which is growing every year in size and quality.
What is your vision on MUN community in Taiwan?
Over the years, I think there has been growth in participation of MUN in Taiwan, but I found that the biggest problem many participants face is the language barrier. I know that many leadership teams of conferences across the island have had to deal with issues where debates are not facilitating very well because the delegates are unable to properly express what they are trying to say. I don't necessarily think that is because they don't have good ideas. I think they aren't able to express it because of the language. To tackle this, I think it might be a good idea to expand the number of conferences that are in Chinese so that we can bolster active participation. I truly believe that the local community can do a lot more.
What kind of training should the leadership address in training process for chairs and delegates?
For chair training, TAS has high expectations for chairs and delegates. We have 2 meetings per week, each one being 1 hour and 30 minutes. During this meeting, we emphasize both research and the actual practice. We begin our conference preparation with research guided practice. We encourage delegates to start with country research because that can be done collaboratively. Then we have part 2 research where delegates use the prior knowledge and then research for their country stance about the issue. Then we move on to issue research such as chair reports and other materials given by the conference. Putting all of this together, it helps all our delegates to produce a policy statement, because it pulls all the aspects of the country, individual, and stances. This training system helps our delegates to have a profound foundation when writing a draft resolution and it is much easier for them to create new solutions.
One of the most unique programs we have is called "Pay it Forward Program," which is essentially what we expect from our more experienced MUN-ers. Getting the opportunities that we have, we are expected to give it forward to younger delegates and the younger generations just as the people before us have given us the mentoring and opportunities. We emphasize this notion of collaboration in our school and we believe this idea led our team altogether to be successful through support and mentoring. This mentor-mentee program can be applied to many training programs at each school so that the newer delegates can learn properly what MUN is about and have a hands-on experience.
How do you think the MUN community can improve in Taiwan?
Aside from the program I've aforementioned, improving the impact is the key. To understand the value of MUN, I think you have to see it within yourself: the change it brings you in your life. Putting aside the shallow reasons, such as awards and positions, will really show what MUN is truly about and cherish the values it provides and take actual actions based on the knowledge you've acquired from Model UN.
---
Dennis Wang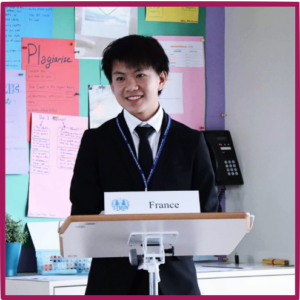 As for our second interviewee, the Munual was able to contact the future leader of KAS MUN team, Dennis Wang. Dennis is currently a sophomore in Kaohsiung American School (KAS), and he has been actively participating in local and international conferences.
Why did you join Model UN?
I joined MUN mainly to practice and improve my public speaking skills, as well as learn more about the global issues we have in our contemporary world. But essentially, it was primarily my sister who had been in Model United Nations, that encouraged me to join MUN as she had told me that it has been one of her best high school experiences.
Can you talk briefly about your MUN experience?
I joined MUN less than a year ago and have currently been to 7 MUN conferences, alongside with 2 mock conferences. Now, I am now an executive of the MUN club in Kaohsiung American School.
My favorite conference is THIMUN Qatar. Although I was not in the most advanced committee, nor was I in the biggest committee, my experience in THIMUN Qatar was truly remarkable. The venue was extremely suitable for such conference, with huge committee rooms allowing space for over 70 delegates. The chairs were very experienced, the delegates varied from first timers to very experienced delegates, and overall the staff managed to make a very well coordinated MUN conference containing over 1,700 participants. Needless to say, I was more than pleased to attend THIMUN Qatar.
How do you think your experience differs from some other students enrolled in different institutions?
MUN in my school (KAS) is by far the extracurricular with the most amount of students. However, I have noticed that our students receive much less training than a lot of other students in Taiwan. For instance, our MUN club only has meetings once a week for less than an hour, as opposed to more meetings or longer hours in other institutions.
Another aspect I've noticed is that my school hosts two mock conferences each year for delegates and chair training, which not all institutions provide. By doing so, we are able to train our delegates and chairs wholly and prepare them for other conferences in the future at home. These are by far the only two major differences I've noticed that differed my MUN experience compared to other institutions.
What is your vision on the MUN community in Taiwan?
I believe that the MUN community in Taiwan will grow exponentially, due to the fact that Taiwanese MUNers, are opened to attend almost all the conferences available in Taiwan with quite ease. With the amazing public transportation system present, students are able to go to any MUN event with little cost. Furthermore, MUN conferences are growing in size each year in Taiwan, as a lot of schools in Taiwan (not only international or American) are entering the MUN community.
How do you think the MUN community can improve in Taiwan?
I feel like there should be more training for first-time delegates before they join an actual conference, perhaps a mock conference. I believe that first-timers are often discouraged to give speeches, or often scared to say anything because they are not completely aware of all the rules or procedures in MUN. Personally, I was also in that position when I was in my first Mock conference. I was very scared because I didn't fully understand all the rules and I didn't even know how to formulate a speech. It was during my first mock where I truly learned how the rules and procedures worked, which led me to have a better time in my first actual conference.
---
Post by May Lee – 2018.06.23